| | | |
| --- | --- | --- |
| Collection of 1400+ POSTERS from Russia, Czech republic, Poland and Cuba. Many are for sale! | | |
Most posters in our collection are originals, acquired in Russia in the 80's (exceptions are clearly marked), political posters, made in the period 1950 - 1990, published with the supervision of the Communist Party, and were designed to make people work harder, be better communists and good patriots.
Please be careful, most of these posters contain ruthless propaganda. Let's take them as historical artefacts...

Our EMAIL: prints@seznam.cz We always respond to emails, so if You don't get our answer within a week, let us know about it please. We will send our answer again, thru a different server. If You will still not get our answer, please send us a sms - see below.
SMS - if you don't receive our email answer within two weeks, it might be due to spam filters. You can send us a free sms from here: http://www.vodafonesms.cz/?locale=en. Send it to number 776376706. Please include Your mobile phone number for an answer. But type it in the BODY of the sms, not in the field on the left. Also, include Your email for reference.
Mobile PHONE: +420 776376706 - we prefer sms over calls, please.
Address of this site: http://posters.nce.buttobi.net and mirrors.
Need big images of our posters? Check our CD. or scans.
Return policy: we want Your 100% satisfaction. Not happy with any poster? Simply return it within 4 weeks for a full refund of its price!
Newly available posters All available posters
These pages were made with the goal to establish an online collection/museum of posters. Since we have multiple pieces of many (original) posters in our collection, we can sell the surplus. We also welcome trade - if you have any interesting posters, be they Russian, Chinese, American, old, new, home-made, political, movie, circus, ANY posters... let us know.
Please understand that we are not any kind of big company with employees and 24/7 customer service. It is our collection of posters, our hobby. We are doing our best to find time to sort thru the floods of emails and respond to each within a few days... We always respond to all emails, but, please, be patient. Peter
Our posters in "brick-and-mortar" poster galleries and exhibits:
Do You also have any posters to show or sell? We can trade them or help You to sell them -email.
How to preserve posters for decades.
We also offer a CD full of posters
You can be on our mailing list. That means that we would send You email when a major addition to the pages is made. That translates to maybe one email every six months... email us to subscribe or unsubscribe. News.
Our standpoint.
Our commentary: War On Terrorism AND PROPAGANDA
A few pictures from a typical Russian town
| | |
| --- | --- |
| Netscape: | Internet Explorer: |
| Make this Your home page | Add Posters to Your favorites |
| Bookmark this page: ctrl+d | Make Posters Your HOMEPAGE |
There has been an unmanageable flow of traffic on our website for the past few years.
Last year, the traffic has doubled again, so we have to take the following measures:
Small images, those that appear on the main poster listing pages, are accessible without restrictions.
Big images are only 500 pixels tall on the web. Larger images are available on our Propaganda Posters CD. This entire collection of posters and many valuable bonuses are included on the CD.
Reprints are also available:

Reprints made from any of our professional, high-res scans
Russian Paintings, Reproductions, Artprints.
Chinese reprints and more Russian Posters Reprints
Russian poster reprints at PrintFinder.
100.000 non-propaganda posters, collectibles.
Posters, reprinted by the Soviet regime - available directly from us.


Posters, reprinted in Russia recently - available directly from us.
Old Russian Propaganda Posters: 196 Reproductions and Artprints thru Allposters. Many are sold out, but search on their site for new reprints.
Selection of 80 Best-Selling Reproductions of Old Russian Propaganda Posters thru Allposters. Many are sold out, but search on their site for new reprints.
Selection of 80 Best-Selling Reproductions of Old Russian Propaganda Posters - small images thru Allposters. Many are sold out, but search on their site for new reprints.

Contemporary work: Bush fan club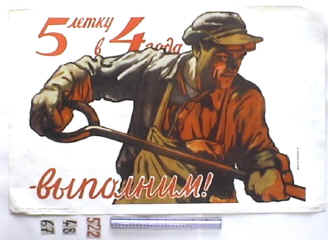 Want to make Your friend happy?
Do You like this site? Do You want to help us to scan more posters and help us to keep them available online?
Thank You!!
PrintFinder offers six pages with Soviet Posters listings.
Non-Propaganda Posters: The 100.000 Posters Site. 100.000 free e-cards included.
---
Mirrors not included in stats